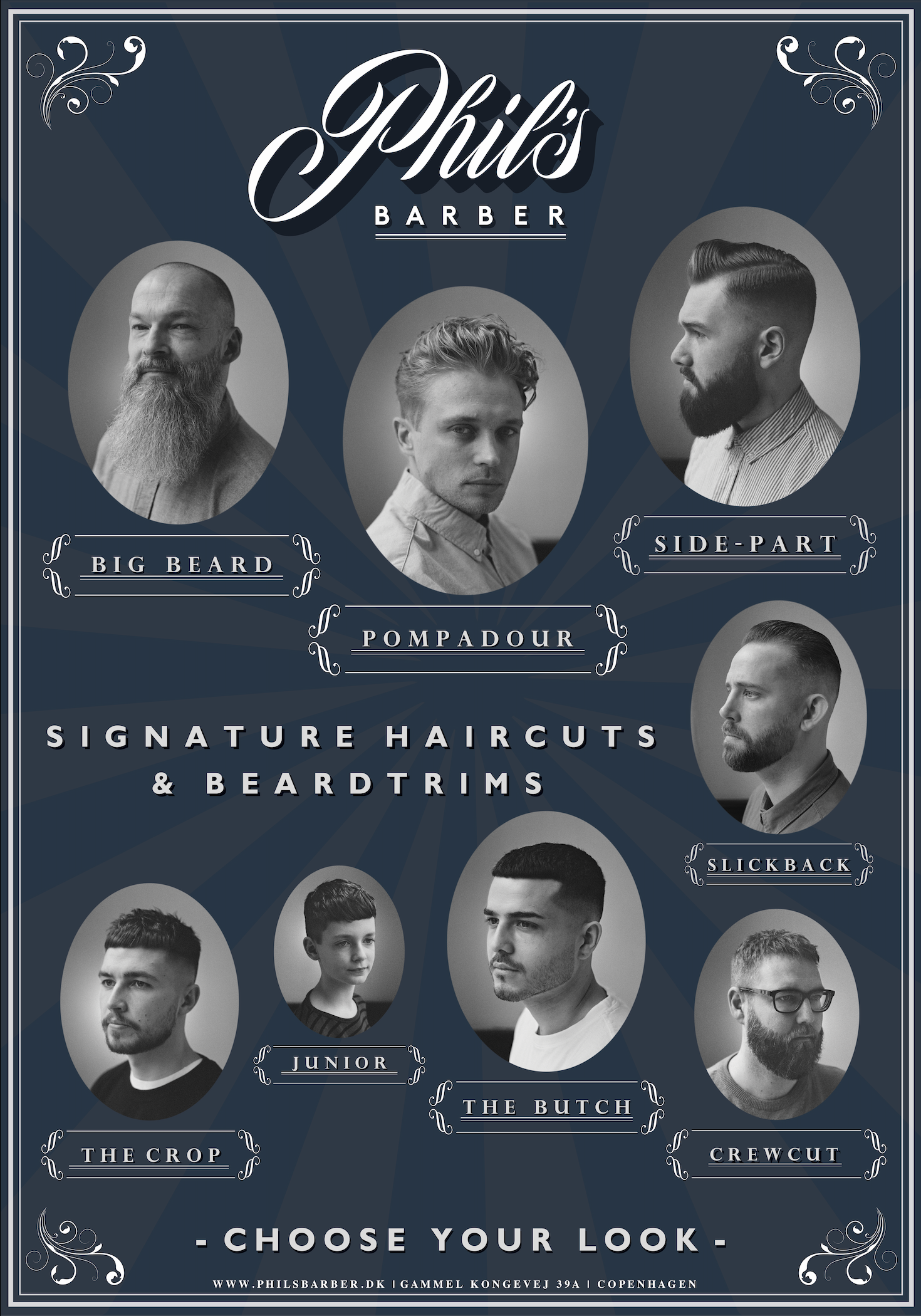 Haircut guide
Here is a guide explaining the different haircuts from Phil's Barber signature haircuts & beardtrims poster. A inspirational guide that can help you get a better understanding of what haircuts to choose from and why. In this way you will be better prepared, if in doubt, for your next barber visit.
Crewcut
This timeless haircut is a good choice, if you like your hair short. Short sides and back, usually with length from 12mm to skin fade, with smooth graduation towards a bit longer top. This hairstyle will work in any type of hair. Styling is limited and most often, with a mat textured look, use a fiber or clay styling wax.
Side-part
This cool classic haircut is a choice for you with a desire for style. Usually with shorter length on the sides, and gradually building length up towards the side part. A bit longer length is used on top and usually pulled back, worn with a visual parting. Creating a nice sharp look with plenty of hair length options, but with limited styling variation. This haircut can work in all hair types. A little bit styling is required, start parting your hair with a comb in damp hair and let air-dry or blow-dry. Use a texture spray when drying and a styling wax for finish, either with little or high shine, of your choosing.
Pompadour
This classic pulled back, haircut for you with a desire for a longer top. Usually shorter sides and back with longer top length. This haircut fits most hair types, but straight spikey hair-type demands longer length on sides. A lot of variation when styling this haircut. Worn wavy loose and backwards for casual look. Slick and tight backwards for more styled look, or even create a parting. Texture spray is a big help in damp hair and comb in to position and let air-dry or blow-dry. Use a styling wax with high or little to no shine, of your likening,
The Butch
Close buzz-cut for you with a desire for short yet exciting hair, with limited work required. Short clipper-cut sides and with small graduation to a longer yet clipper-cut top length. Suitable for all hair types, but light hair types will appear shorter then darker will. For styling a light lotion or small amount of styling wax, will do.
The Crop
This trendy haircut is for you, up for a short fringe and with a desire for something new. Similar to the Crew cut, with short sides and back usually from 12mm to skin fade length, either with a graduation to a bit longer textured top. Fringe is cut shorter, either straight or textured. This haircut fits all hairstyles, but not if vortex twirl or cowlick patterns is present in front. Limited styling is required, but focus on downwards fringe and textured top. Use a styling wax with little or no shine.